Trend Micro Antivirus+ 2020 & Roxio Secure Burn - 1-Year / 1-PC - BUNDLE
Brand:

Trend Micro

MPN:

TAV11777-BUN2

Availability:

In Stock
Requires Product Activation (we supply product key)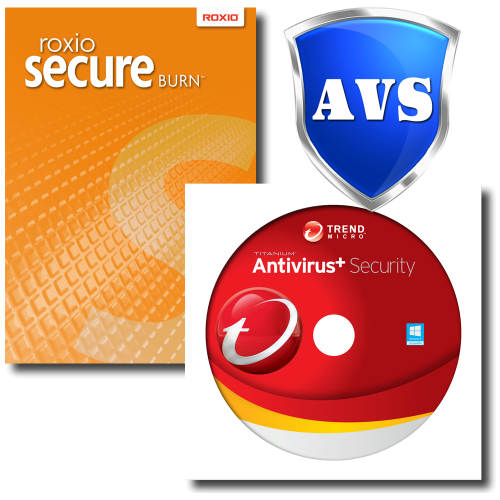 Product Details
Brand:
Trend Micro
Manufacturer Part #:
TAV11777-BUN2
Our Part #:
AVS-TMAV1U-BUN2
Availability:
In Stock
Media Type:
Download
Platform:
Windows 7, Windows 8, Windows 10
Free Installation Support
To quickly activate your software, Call us toll-free:
USA: 1-866-792-0695
CANADA: 1-866-792-0695
AUSTRALIA: 1800 456 279
UK: 0808 189 1209
A Friendly Tech Repair Expert will securely connect to your PC and remotely activate your software for you.
The agent may also discuss other software products and services that are available that may be beneficial to you.
Trend Micro Antivirus+ and Roxio Secure Burn - DOWNLOAD BUNDLE
---
OEM Bundle - CAN NOT BE SOLD SEPARATELY - NORTH AMERICA ONLY
Trend Micro™ Antivirus+ provides easy-to-use security for the tasks you do every day—email, socialize, and surf the web, hassle free. It features:
Antivirus and Antispyware

Antispam

Social Networking Security

Privacy Scanner For Facebook

Windows 8 Secure Browser

Fully compatible with Microsoft Windows® 8
Titanium is protection made easy.
Strong Antivirus Protection Made Easy
From the Titanium main console screen, you can easily run antivirus scans, get up-to-the-minute status reports on your computer's security, and use short cuts to features like the Facebook Privacy Scanner. You can also view the status of your protection, including details about the software, online help, and account information.
Easy-to-Understand Security Reports
Easy-to-read reports give you the details on current computer threats. You can see detailed logs with just one click.
Social Networking Protection
Titanium's social networking security automatically scans your Facebook wall or Twitter feed and shows you safe links by highlighting them in green. Potentially malicious ones are highlighted in red. The color-coding relies on Trend Micro's cloud-based Smart Protection Network™ infrastructure that continuously analyzes threat behavior. When Titanium identifies a bad link, it will even let you easily and quickly warn your friend. Titanium can protect you online and help keep your friends safe too. This feature also works on Google+, LinkedIn, Pinterest, MySpace, Mixi, and Sina Weibo.
Privacy Scanner for Facebook
Titanium's new Privacy Scanner For Facebook provides you with another layer of protection. With a single click, it lets you easily monitor your Facebook page settings and control who can contact you and access your personal information. Titanium will identify which settings may lead to privacy concerns. This feature lets you control which apps can access your bio, who can tag you, see your photos, and more.
Web Threat Protection
Titanium presets web threat protection to block malicious links and downloads in emails, instant messages, or websites. This recommended level of security protects you from online phishing scams that try to steal credit card or other personal financial information. You will be warned of unsafe web pages and blocked from accessing them.
Parental Controls
Easily protect your kids 24/7 from inappropriate websites, control the apps they can access, limit their Internet time, and review detailed activity reports about what they do online with Titanium parental controls. Select from a range of settings recommended by online child safety experts for different age groups or quickly customize the parental settings yourself. Different settings can be created for each member of your family.
Data Theft Protection
Titanium can help prevent hackers and spyware from stealing credit card numbers, passwords, and other sensitive data. Now, you can stop confidential data from going into web pages, email messages or instant messaging. Use the pre-defined categories or set new ones of your own. Putting just part of a word or number into the Data Theft Prevention list can still protect the whole thing.
Secure Erase
Use Secure Erase to shred unwanted files permanently. Deleting a file just removes the directory information, but not the actual data. The Secure Erase feature overwrites deleted files with random data, so that the contents can't be retrieved.
System Tuner
System Tuner improves PC performance by recovering disk space, cleaning the registry, removing application histories, and instant messaging logs. Optimize your PC performance by easily setting a regular schedule to tune-up your operating system.
Personalize Your Titanium
Customize your Titanium software user interface with a favorite photograph or image. Simply upload your chosen picture to personalize your Titanium experience.
---
Roxio Secure Burn
Saving data on CDs, DVDs, Blu-ray Discs and USB flash drives is a convenient way to share and preserve files within an organization. However, removable media can be easily stolen, and loss of unsecured data can result in penalties, lawsuits, harm to an organization's reputation. Now, Roxio provides powerful encryption for optical media and USB flash drives, greatly reducing the risk of data breaches. Roxio Secure offers three scalable products to meet the varied needs of today's computing enterprise, large and small.
Roxio Secure Burn reliably burns data on CD, DVD and Blu-ray Discs as easily as dragging and dropping files and folders on the desktop. Powerful data encryption and password protection ensure that the disc contents can only be accessed by authorized users.
Roxio secure burning ensures that the data on an organization's removable media remains safe and protected.
Minimum System Requirements
Microsoft® Windows XP, Windows Vista or Windows 7 (32-bit and 64-bit versions supported) to write discs and to read encrypted discs
Hard drive with at least 100 MB of free space for installation
256 MB or more RAM
Internet Explorer 7.0 or greater for reading Help files
CD, DVD or Blu-ray writer and/or USB flash driver
Segment
Segment
Home
License Information
License Type
New License
Seats
1
License Term (Months)
12
System Requirements
Operating System
Windows 7, Windows 8, Windows 10
Trend Micro Antivirus+ 2020 & Roxio Secure Burn - 1-Year / 1-PC - BUNDLE
Brand:

Trend Micro

MPN:

TAV11777-BUN2

Availability:

In Stock
Requires Product Activation (we supply product key)
Watchdog Online Security Pro
Watchdog Online Security Pro
These days you can't just rely on antivirus alone. You need multiple layers of security to stay safe.
Get Extra Protection Today!
More Information
Add to Cart
For a limited time, save 20% on 1 Year / 1 PC using coupon code: WD20