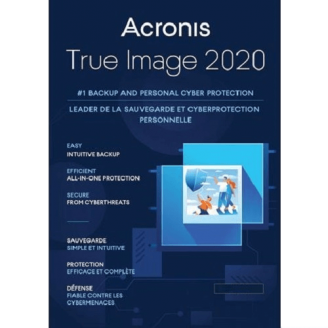 Acronis True Image 2020 Advanced (free upgrade to 2021 version) - 1-Year / 3-Device + 250GB Acronis Cloud Storage
Brand:

Acronis

MPN:

TH3AB2ENS

Availability:

1 - 2 Business Days
Requires Product Activation (we supply product key)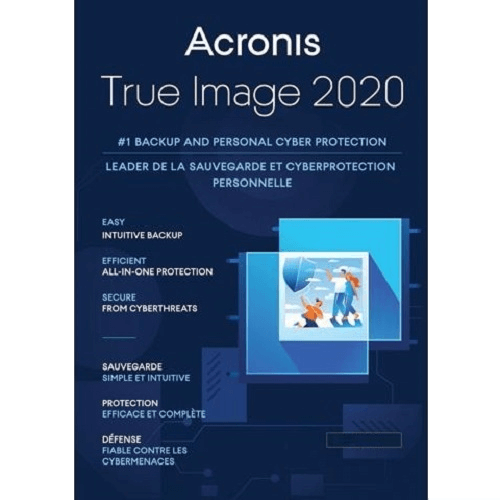 Product Details
Brand:
Acronis
Manufacturer Part #:
TH3AB2ENS
Our Part #:
AVS-TH3AB2ENS
Availability:
1 - 2 Business Days
Media Type:
Download
Platform:
Windows 7, Windows 8, Windows 8.1, Windows 10, Windows Home Server 2011, Mac OS X 10.11, Mac OS 10.12, Mac OS 10.13, Mac OS 10.14, Mac OS 10.15, Android 4, Android 5, Android 6, Android 7, Android 8, Android 9, Android 10, iOS 8, iOS 9, iOS 10, iOS 11, iOS 12, iOS 13
Free Installation Support
To quickly activate your software, Call us toll-free:
USA: 1-866-792-0695
CANADA: 1-866-792-0695
AUSTRALIA: 1800 456 279
UK: 0808 189 1209
A Friendly Tech Repair Expert will securely connect to your PC and remotely activate your software for you.
The agent may also discuss other software products and services that are available that may be beneficial to you.
Acronis True Image 2020
Backup and protect your data with Acronis True Image 2020. True Image 2020 has been programmed to give you freedom and full control over how and what you backup, along with the ability to store your backups in the cloud , and built-in AI-based protection of your data from attacks in real time. All of this flexibility can be executed and controlled via a single intuitive dashboard.
250GB of Acronis Cloud Storage
This version of True Image 2020 includes 250GB of Acronis Cloud Storage, which lets you take advantage of all of the cloud-based backup, recovery, and migration features of True Image 2020.
Data & Drive Backups
With True Image 2020, you can back up an entire drive, partitions, or specific files and folders, and have full control over where that data goes. You can back up your data locally to an external hard drive, NAS device, or a network folder, off-site to the cloud, or a combination of both to maximize data protection. You can even backup locally while simultaneously replicating it in the cloud.

True Image 2020 gives you additional controls based on how you back up your data. If you need to use Wi-Fi, you can approve specific networks, as well as avoid backing up when on public networks or metered connections. If you use a laptop, you can set a minimum power level before backing up, or block backing up on battery power altogether. You can also choose to specialize your backups with event-based scheduling, run them non-stop, automatically replicate data to the cloud, or even perform cloud-to-cloud Office 365 backups.

When performing whole-disk backups, you can create a disk clone or disk image. With cloning, True Image 2020 makes an exact, bit-by-bit replica of a source drive onto a new drive. With imaging, True Image 2020 will compress all the contents of your hard drive into a single file.
Data Recovery
True Image 2020 lets you retrieve individual files or restore entire drives based on your back up method. If your data is in the cloud, you can recover from anywhere you are, as well as manage your backups remotely.

With the Acronis Survival Kit feature, you can even recover your system in case you can't boot your machine. The all-in-one tool is designed to let you build a survival kit in just a few clicks. Whether you choose a partition or the full system, the survival kit is meant to be bootable, so you can get your system up and running, along with your data.
Data Migration
Sometimes you just need to move your data. True Image 2020 allows for data migration in a variety of ways:
Migrate data to a new computer, larger hard drive, or even from Android to iOS devices - and back again
Migrate data locally from drive to drive, or pull data from the cloud
Migrate all types of data, such as operating systems, boot media, programs, and files
Migrate files and folders or full systems
Built-in tools let you copy, format, partition, and delete a hard drive image
Data Protection
Integrated anti-malware defense that's compatible with other anti-virus programs
AI-powered defense to detect and stop ransomware in real time, and automatically restores affected files
Prevention of cryptomining malware that can steal system resources and inject other malware
End-to-end password-protected AES-256 encryption of local data, in the cloud, or in transit
Segment
Segment
Home
License Information
License Type
New License
Seats
3
License Term (Months)
12
System Requirements
Operating System
Windows 7, Windows 8, Windows 8.1, Windows 10, Windows Home Server 2011, Mac OS X 10.11, Mac OS 10.12, Mac OS 10.13, Mac OS 10.14, Mac OS 10.15, Android 4, Android 5, Android 6, Android 7, Android 8, Android 9, Android 10, iOS 8, iOS 9, iOS 10, iOS 11, iOS 12, iOS 13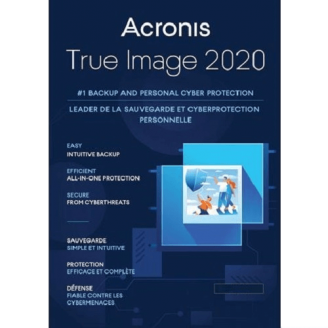 Acronis True Image 2020 Advanced (free upgrade to 2021 version) - 1-Year / 3-Device + 250GB Acronis Cloud Storage
Brand:

Acronis

MPN:

TH3AB2ENS

Availability:

1 - 2 Business Days
Requires Product Activation (we supply product key)