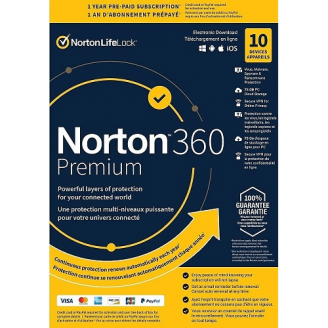 Norton 360 Premium - 1-Year / 10-Device - United States & Canada
Brand:

Symantec

MPN:

N360P1Y10D-NA

Availability:

In Stock
Requires Product Activation (we supply product key)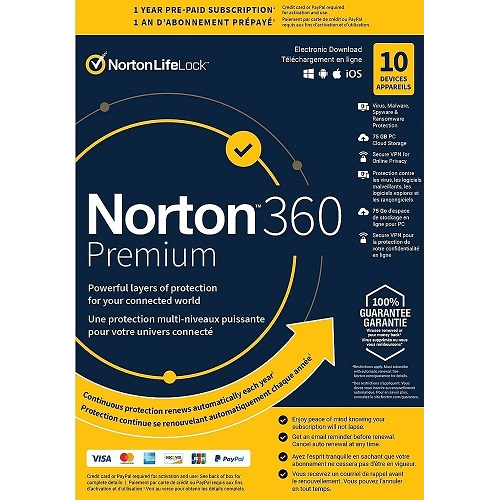 Product Details
Brand:
Symantec
Manufacturer Part #:
N360P1Y10D-NA
Our Part #:
AVS-N360P1Y10D-NA
Availability:
In Stock
Media Type:
Download
Platform:
Windows 7, Windows 8, Windows 10, Mac OS X 10.10, Mac OS X 10.11, Mac OS 10.12, Mac OS 10.13, Mac OS 10.14, Mac OS 10.15, Android 4, Android 5, Android 6, Android 7, Android 8, Android 9, Android 10, iOS 11, iOS 12, iOS 13
Free Installation Support
To quickly activate your software, Call us toll-free:
USA: 1-866-792-0695
CANADA: 1-866-792-0695
AUSTRALIA: 1800 456 279
UK: 0808 189 1209
A Friendly Tech Repair Expert will securely connect to your PC and remotely activate your software for you.
The agent may also discuss other software products and services that are available that may be beneficial to you.
This is a one year pre-paid subcription of Norton 360 Premium for 10 devices.
Renews Automatically each year. (Enrollment with Norton is required but can be cancelled at any time)
Enrollment - Credit/Debit Card or PayPal required for activation (Auto-renewal direct with Norton) and can be switched off at any time after the product is activated.
Norton 360 Premium includes:
- Real-time Threat Protection
Segment
Segment
Home
License Information
License Type
New License
Seats
10
License Term (Months)
12
System Requirements
Operating System
Windows 7, Windows 8, Windows 10, Mac OS X 10.10, Mac OS X 10.11, Mac OS 10.12, Mac OS 10.13, Mac OS 10.14, Mac OS 10.15, Android 4, Android 5, Android 6, Android 7, Android 8, Android 9, Android 10, iOS 11, iOS 12, iOS 13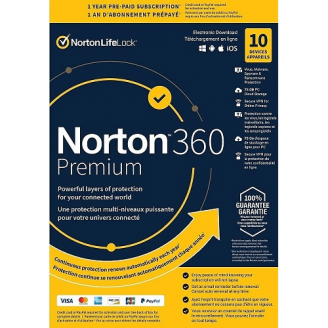 Norton 360 Premium - 1-Year / 10-Device - United States & Canada
Brand:

Symantec

MPN:

N360P1Y10D-NA

Availability:

In Stock
Requires Product Activation (we supply product key)