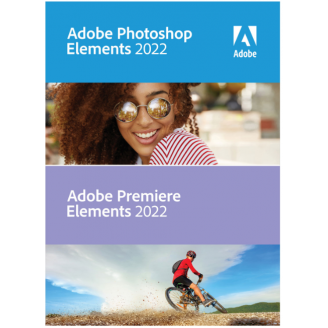 Adobe Photoshop & Premiere Elements 2022 - Lifetime License / 1-Mac
Brand:

Adobe

MPN:

65319220

Availability:

In Stock
Requires Product Activation (we supply product key)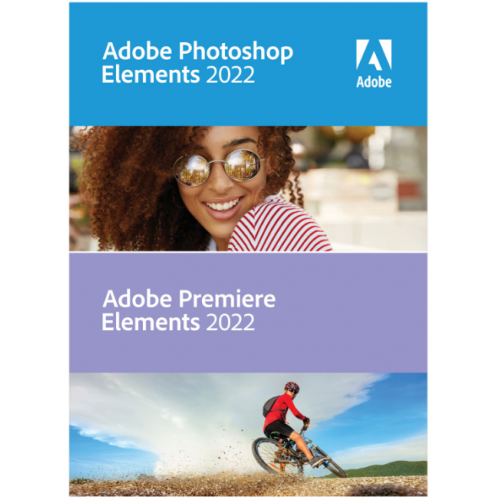 Product Details
Brand:
Adobe
Manufacturer Part #:
65319220
Our Part #:
AVS-65319220
Availability:
In Stock
Media Type:
Download
Platform:
Mac OS 11 or later
Adobe Photoshop & Premiere Elements 2022
Key Features
Automated Editing
New
: Instantly turn photos into art-stylized photos
New
: Create not-so-still photos with moving overlays like snowflakes and sparkles, and create fun, animated frames
New
: Warp photos to fit any shape
Add motion to your photos
Smooth skin automatically
Automatically colorize photos
One-click subject selection
Step-by-Step Guided Edits
New
: Create perfect pet pics by refining fur, fixing pet-eye, removing collars, and more
New
: Extend photo backgrounds
Erase distractions with ease
Add some color to black-and-white pics
Create cool double exposures
Add style with text and borders
Create & Share
New
: Explore new slideshow styles
Auto Creations just for you—slideshows, collages, and effects are automatically applied to your photos
Inspire with Quote Graphics—add motivational quotes or personalized messages to your pics with pre-set templates
Effortless Organization
Go from hundreds of mystery folders to a visual view of your photos automatically sorted by date, subject, people, places, and events
New
: GIF playback in the Organizer
Find photos faster with auto tagging
Find your best photos with Auto Curate
Adobe Premiere Elements 2022
Adobe Premiere Elements 2022 consumer video editing software gives you two types of workflow options. You can go near fully automated or manual, and the manual workflow also includes automated features throughout most of the tools. In the main interface, you can click on the tab that takes you to the automated workflow or the manual one, and you can switch between these tabs within the same project, so you're not locked into a workflow for a particular project.
Automated features include one-click functions where the software does most of the work for you. There are also Guided Edits. These lead you step by step through creating elaborate effects. Within each step, you get to make your selections, whether in color or other parameters. Elements combines the simple with the sophisticated.
Although designed to provide a simplified workflow for the enthusiast editor, it still provides a highly comprehensive collection of tools and functions. There's virtually nothing that can't be done in Elements, whether in respect to fancy effects, transitions, motion graphics, or otherwise. But to help you move faster through your project, automated tools are provided throughout that you can choose to engage should you want to.
Besides all this, there are also fully automated functions for the editor who just wants to put a project together quick; functions such as Instant Movie, where you can just throw in video/audio/image files and the software will spit out a coherent movie for you to display to friends and family or share direct to social media. The same goes for the slideshow creator and other auto features. A large collection of audio effects and tracks are provided within the application for you to choose from to apply to all your projects.
Premiere Elements 2022 requires an Intel 6th generation or newer processor, or an equivalent, along with 8GB of RAM or more, to provide you with a smooth workflow.
Key Features
Automated Editing
New
: Pick the perfect aspect ratio
New
: Auto-reframe your subject
Match music length to video
Step-by-Step Guided Edits
New
: Add fun animated overlays
New
: Adjust shadows and highlights
Create cool double exposures
Animate skies in your photos
Freeze frames and motion titles
Create & Share
New
: Explore new slideshow styles
New
: Compress for easy sharing
Auto Creations just for you
Polished movies, instantly
Make animated social posts
Effortless Organization
GIF playback in the Organizer
Find videos faster with auto tagging
Find your best videos with Auto Curate
Segment
Segment
Home
License Information
License Type
New License
Seats
1
License Term (Months)
12
System Requirements
Operating System
Mac OS 11 or later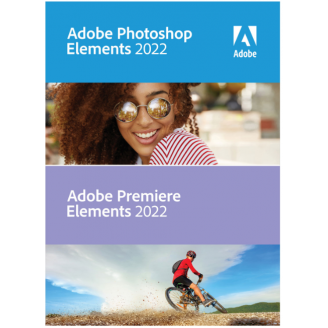 Adobe Photoshop & Premiere Elements 2022 - Lifetime License / 1-Mac
Brand:

Adobe

MPN:

65319220

Availability:

In Stock
Requires Product Activation (we supply product key)