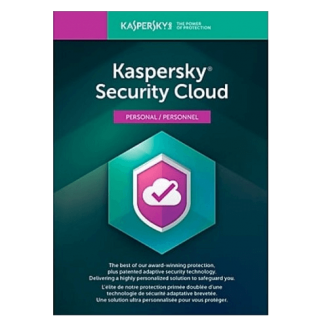 Kaspersky Security Cloud Personal 2021 - 1-Year / 3-Device - Global
Brand:

Kaspersky

MPN:

KSC1Y03D-WW

Availability:

In Stock
Requires Product Activation (we supply product key)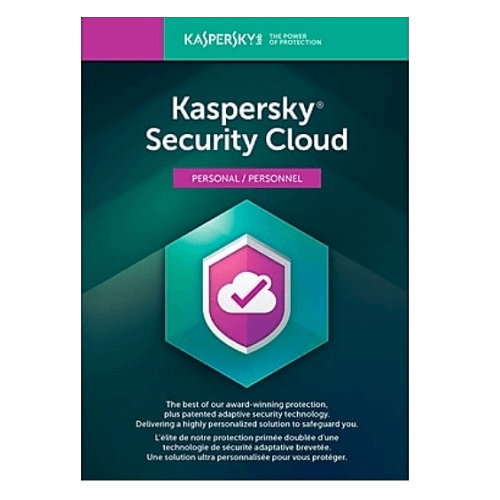 Product Details
Brand:
Kaspersky
Manufacturer Part #:
KSC1Y03D-WW
Our Part #:
AVS-KSCP1Y3D-WW
Availability:
In Stock
Media Type:
Download
Platform:
Windows 7 or later, Mac OS 10.14 or later, Android 5 or later, iOS 14 or later
KASPERSKY SECURITY CLOUD - ULTIMATE SECURITY - YOUR GATEWAY TO ALL OUR BEST PROTECTION
GET OUR BEST APPS & FEATURES UNDER ONE ACCOUNT
6 premium products & apps for Windows, macOS, Android & iOS – all in one place & packed with 100s of features.
Includes antivirus, anti-ransomware, mobile security, password management, VPN (daily 500mb limit).
Plus privacy tools, data leak detection, Home Wi-Fi security & payment protection – all easy to manage remotely.
BENEFIT FROM PERSONALIZED PROTECTION
Find out if your private accounts data is leaked & get advice on what to do next.
Get notified in real time if an unknown app attempts to connect to your webcam or mic.
Plus get personalized alerts & warnings sent straight to your devices to keep you safe.
BOOST THE PERFORMANCE OF YOUR DEVICES
Take advantage of cloud-based security that keeps your devices fast and easy to use.
Predict & fix issues with your hard drive by viewing metrics that report on its health.
Manage storage space and battery life on your Android devices with specially built tools.
PINPOINT DATA LEAKS & GET HELP MANAGING THEM
We continuously monitor public databases so we're able to tell you instantly if your online account data is leaked - and give you advice on the best way to manage the situation.
MONITOR YOUR HOME WI-FI NETWORK FOR HACKERS
Our technology patrols your home network and alerts you instantly when a new device connects. Making it easy for you to identify and block intruders, and stop your data getting stolen.
MANAGE YOUR SECURITY FROM ONE PLACE
Because the service is linked to your My Kaspersky account, it's easy to manage your security and settings from anywhere you can get online.
What is the difference between Kaspersky Security Cloud and other products?
What products do I get with Kaspersky Security Cloud?
Segment
Segment
Home
License Information
Region
Global
License Type
New License
Seats
3
License Term (Months)
12
System Requirements
Operating System
Windows 7 or later, Mac OS 10.14 or later, Android 5 or later, iOS 14 or later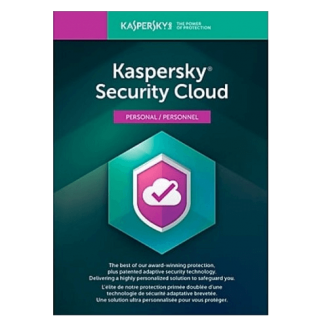 Kaspersky Security Cloud Personal 2021 - 1-Year / 3-Device - Global
Brand:

Kaspersky

MPN:

KSC1Y03D-WW

Availability:

In Stock
Requires Product Activation (we supply product key)