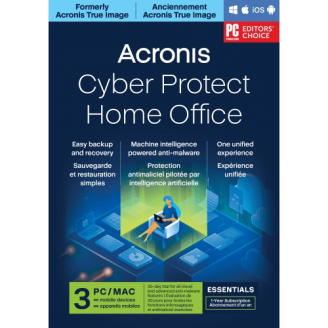 Acronis Cyber Protect Home Office Essentials - 1-Year / 3-Device
Brand:

Acronis

MPN:

HOFASHLOS

Availability:

1 - 2 Business Days
Requires Product Activation (we supply product key)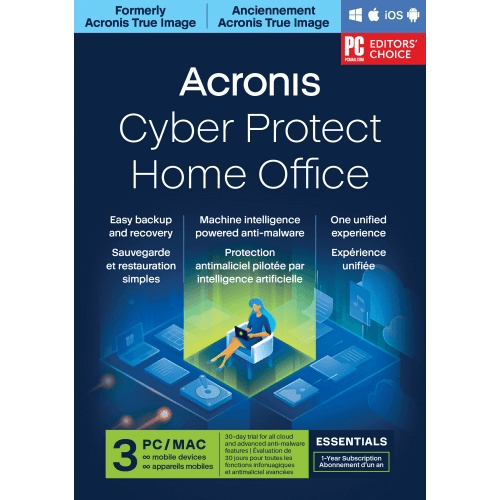 Product Details
Brand:
Acronis
Manufacturer Part #:
HOFASHLOS
Our Part #:
AVS-HOFASHLOS
Availability:
1 - 2 Business Days
Media Type:
Download
Platform:
Windows 7, Windows 8, Windows 8.1, Windows 10, Windows Home Server 2011, Mac OS X 10.11, Mac OS 10.12, Mac OS 10.13, Mac OS 10.14, Mac OS 10.15, Mac OS 11, Android 5, Android 6, Android 7, Android 8, Android 9, Android 10, Android 11, iOS 11, iOS 12, iOS 13, iOS 14
Acronis Cyber Protect Home Office

The #1 cyber protection solution for your personal and home office data

Hard disks fail. Coffee spills. Cyberthreats attack. Your personal and home office data is more valuable than ever

Acronis Cyber Protect Home Office is the only cyber protection solution that

keeps your digital world safe from all of today's threats thanks to its unique integration of best-of-breed backup

and cutting-edge anti-malware technologies in one.

• Back up locally, in the cloud* or both

• Migrate data fast by cloning your disk

• Restore to the same or new hardware

• Recover instantly with an all-in-one rescue drive

• Defend your device and backup files against ransomware

• Keep attackers away from videoconferencing apps

• Stop cyberattacks with real-time protection*

• Prevent websites from uploading malware*

• Close security gaps with vulnerability assessments

*

Capabilities included in Advanced and Premium editions and as a 30-day free trial in Essentials.
Segment
Segment
Home
License Information
License Type
New License
Seats
3
License Term (Months)
12
System Requirements
Operating System
Windows 7, Windows 8, Windows 8.1, Windows 10, Windows Home Server 2011, Mac OS X 10.11, Mac OS 10.12, Mac OS 10.13, Mac OS 10.14, Mac OS 10.15, Mac OS 11, Android 5, Android 6, Android 7, Android 8, Android 9, Android 10, Android 11, iOS 11, iOS 12, iOS 13, iOS 14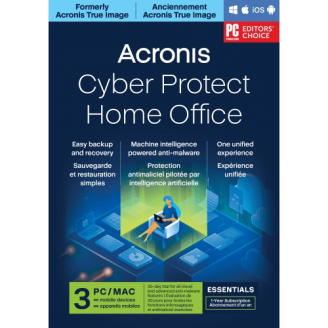 Acronis Cyber Protect Home Office Essentials - 1-Year / 3-Device
Brand:

Acronis

MPN:

HOFASHLOS

Availability:

1 - 2 Business Days
Requires Product Activation (we supply product key)